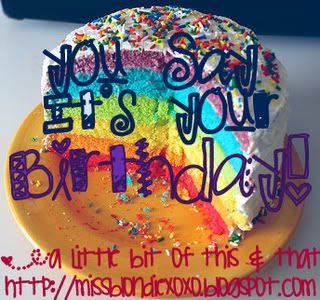 First off, my birthday is just around the corner... as in 13 days away.
Yep, that's rrrrright, my birthday is 4-20. Which is pretty ironic seeing as how I've never done a drug in my life.
Anyway, more about my birthday. Well, I will be 23. I'm looking forward to it actually. If you've read some of my earlier posts you would know that this last year was a roller coaster for me and so far 2011 has been nothing but amazing so I'm hoping that this will continue on to my entire 23rd year of life.
Sorry about the language, it just made me laugh.
The birthday I'm looking forward to most is actually 25. Working so high up in my profession is really difficult being so young. People look at me like I haven't had enough life experience to be anyone's boss, when that isn't really the case and I feel like around the time you hit 25 you just automatically are looked at as more of an adult.
I've never had really really great birthday celebrations, just because it's a busy time of year for most people and my birthday tends to slip by. Except for my 16th birthday, that was a big deal and my mom had a surprise dinner for me. She's so sneakyyyy, love her.
For my birthday this year, in 13 days need I remind you, I have complied a little birthday list that I may or may not have emailed to my mother for her to disperse among the other wonderful people who love me. I'll share with all of you what was on it, just in case you are feeling extra generous...
Perfume. I've been trying to find a new scent and so far I really like Daisy, but I am very open to suggestions. I also like Juicy and Burberry Sheer (that's what I already wear).
A kindle. I also asked for this for Christmas so I feel like it's pretttty doubtful that I'm getting this.
A grill. I asked my grandmother for this and she thought I was crazy. But I love food grilled, and it's almost summer and I want a dang grill. Anyway, now I think I will ask my brother for this.
Ice cream cake from Baskin Robins. duh.
What are you all asking for your birthdays?? I would love more suggestions, I'm sure there are many many many more people who would like to buy me presents than I have a list for!! (enter sarcasm here)
I will leave you with these weird facts about my day of birth:
April 20, 1889 Hilter was born
National Weed Smoking Day (again, doesn't apply to me)
Carmen Electra's Birthday